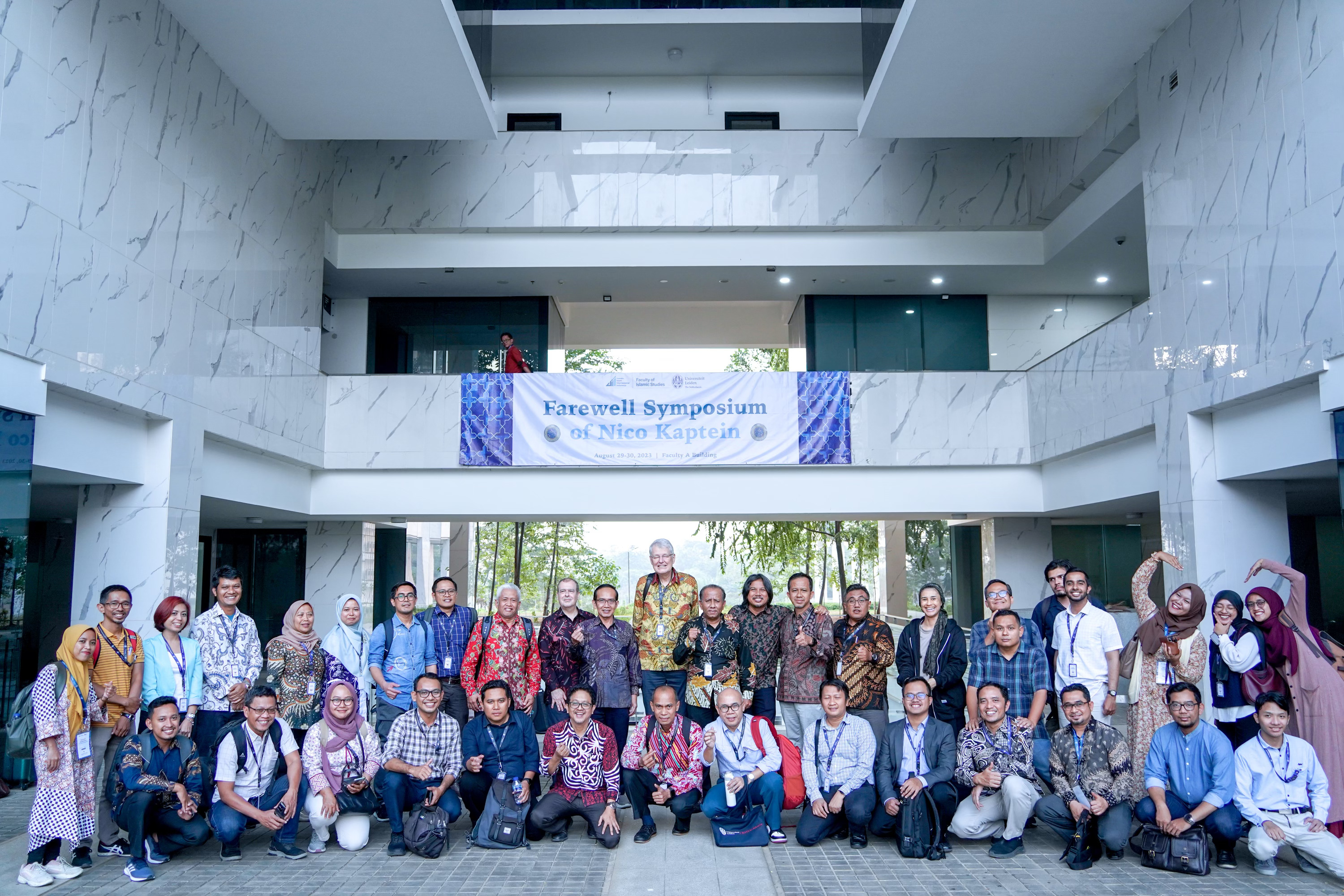 Depok, August 29-30, 2023
The Faculty of Islamic Studies at the Indonesia International Islamic University (UIII) hosted a two-day farewell symposium to honor the esteemed career of Prof. Nico Kaptein, titled "Farewell Symposium – Prof. Nico Kaptein: From the Past to the Future: Islam and Religious Authority in Indonesia." Co-organized in collaboration with the Office of Leiden University in Indonesia, the event provided a platform for scholars and experts to delve into the intricate dynamics of religious authority in the Indonesian context.
The symposium, which took place at the UIII campus in Depok, brought together prominent academics, researchers, and students interested in the intersections of Islam, society, and religious authority in Indonesia. Prof. Kaptein's retirement marked the end of a distinguished career as Professor of Islam in Southeast Asia at the Leiden University Institute for Area Studies, officially retiring in May 2023. Throughout his career, he has made significant contributions to the scholarship of Islam and Muslim societies in Indonesia.
One of the central themes of the symposium was the revival and contestation of religious authority figures within Islam, a phenomenon observed globally. These figures, such as saints, religious leaders, and experts, while numerous, are often loosely institutionalized and lack strict hierarchical organization. The symposium highlighted how religious authority significantly impacts the lives of both Muslims and non-Muslims in various everyday and exceptional situations. It noted that religious authority draws from culturally accepted traditions, legal norms, personal experiences, and communal practices, profoundly influencing the behavior of individuals in Indonesia and beyond.
The symposium delved into the historical representation and reevaluation of 'ulamā', sheikhs, and fuqahā, who, over time, have been rediscovered and endowed with new significance. These processes of inclusion and appropriation simultaneously produce otherness and challenge the perception of prominent historical figures while rejecting those deemed undesirable.
In the present day, in addition to 'ulamā', du'āt, and asātīż have played pivotal roles in spreading Islam, bridging local cultures and modernity, shaping Islamic development, transmitting religious knowledge, and disseminating socio-political perceptions within Muslim communities.
Given Indonesia's unique position as the world's most populous Muslim-majority country, with over 230 million adherents, and its deep regard for religion in everyday life, the symposium examined the roles of these figures in the past, present, and future. It questioned how socio-political transformations and historical gaps are instrumentalized by religious authorities to shape Islamic values and norms in Indonesia's distinct socio-cultural context.
The symposium not only celebrated Prof. Nico Kaptein's illustrious career but also emphasized the enduring significance of religious authority in shaping Indonesian society. Prof. Kaptein's involvement in building collaborations between Leiden University and the Ministry of Religious Affairs of the Republic of Indonesia was acknowledged. His contributions include the training of university lecturers in Islamic higher education institutions, particularly through the Indonesian-Netherlands Cooperation in Islamic Studies (INIS) and the Training Indonesia's Young Leaders (TIYL) program.
Prof. Kaptein's mentorship and supervision of numerous Indonesian MA and PhD students have had a lasting impact as they have assumed key positions within their respective institutions, furthering the study of Islam and society in Indonesia. The symposium was a testament to his enduring legacy and the importance of continued research into the dynamic landscape of religious authority in the Indonesian context.