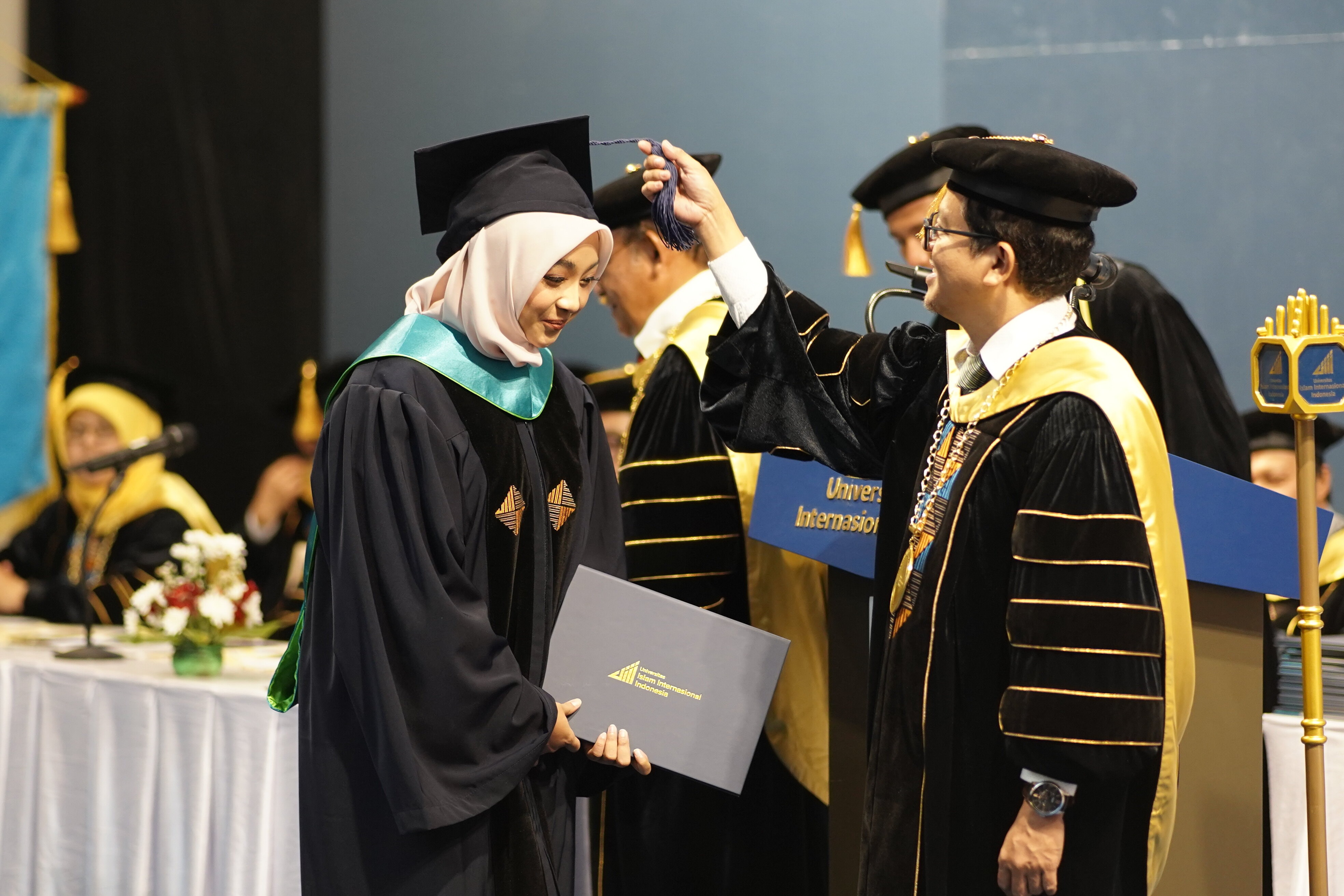 Depok, September 1, 2023 – Universitas Islam Internasional Indonesia (UIII) recently celebrated a historic moment as it held its inaugural commencement ceremony, honoring the academic accomplishments of 72 exceptional graduates, with a notable 25 graduates hailing from the distinguished Faculty of Islamic Studies. The ceremony, hosted at UIII's picturesque campus in Depok, was a vibrant celebration of achievement, diversity, and the pursuit of academic excellence.
The Faculty of Islamic Studies at UIII is known for its commitment to fostering a global community of scholars. Graduating students from six different countries, including Indonesia, Algeria, Afghanistan, Egypt, and Ivory Coast, came together to celebrate their academic success and the bonds of friendship formed during their time at the university.
Of the 25 graduates, an impressive 23 achieved the coveted "cum laude" status, signifying their exceptional academic performance and dedication to their studies. The remaining two students received the distinction of "very satisfying," showcasing the high standards upheld by the Faculty of Islamic Studies.
During the commencement ceremony, the Dean of the Faculty of Islamic Studies, Prof. Noorhaidi, delivered an inspiring speech. He congratulated the graduates on their remarkable journey, saying, "You have done your best. You are now relieved from all the burdens and stresses of your study for this degree." Prof. Noorhaidi emphasized the importance of knowledge, unity, and the responsibilities that come with being educated individuals in a diverse and interconnected world.
The ceremony was a testament to UIII's dedication to providing a comprehensive and globally-oriented education in Islamic studies. Graduates from the Faculty of Islamic Studies are expected to contribute significantly to the promotion of peace, understanding, and dialogue across cultures and nations.
The First Commencement of the Faculty of Islamic Studies at UIII will undoubtedly be remembered as a milestone in the university's history. It not only showcased the academic excellence of its graduates but also highlighted the institution's commitment to fostering international cooperation and understanding in the field of Islamic studies. Congratulations to the 25 graduates who are now poised to make a positive impact on the world through their knowledge and dedication.